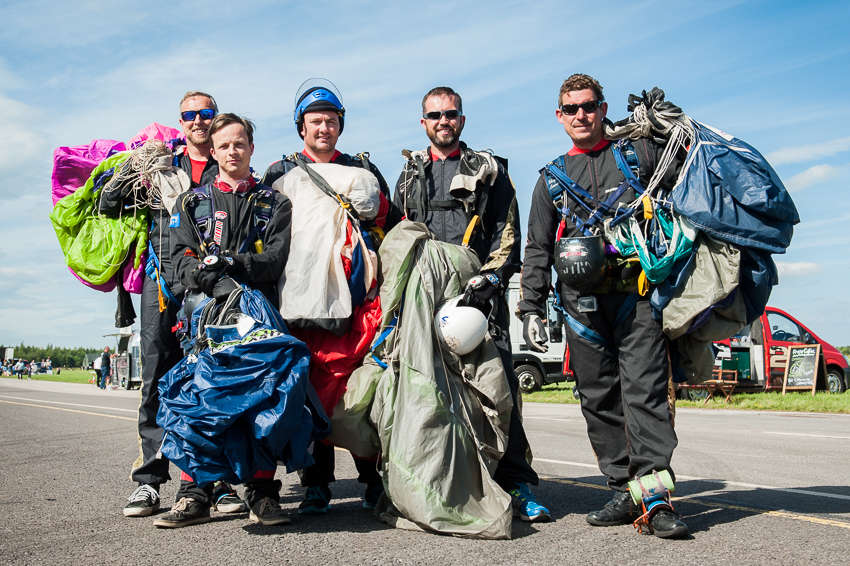 01 Aug

Armed Forces Day Parachute Display

The past few months have been interesting ones with some great progression and achievements. Our Static Line Programme is running regularly and it is fabulous to see new jumpers coming through the doors and committing to their learning. We have been blessed with the odd day of good weather which has enabled them to jump and the majority are returning to complete more.

The aircraft has been a problem child of late. It broke, so we got it fixed. It broke again, so we fixed it again. In a final act of defiance, it broke again. However, we seem to have beaten it into submission this time. The Airvan has now decided that it is easier to play nicely and is behaving in an acceptable manner.

We had the first and possibly the last barbecue of the season. The Yorkshire weather does not often allow us to sit outside without getting hypothermia, but we still like to try.

The last party night was an interesting one. Mac ended up asleep in the boiler room, although he actually managed to keep his clothes on in the bar for once. This is a significant step for Mac, who is known to get naked at every given opportunity. There was also some question as to why the sleeping bag he was using was soaking wet in the morning. He insisted that he had spilled a drink on it, but once a Royal Marine…

Erik Bowie has completed his FS1. This has been a long time coming, but it was not through lack of trying to get this jump done. Erik faced weather issues, aircraft issues, a lack of available jumpers, different skydive centres and a plethora of other issues, so fair play on achieving it and a job well done.

It was great to welcome Rachel Stent back into the world of skydiving after a seven-year break. Rachel has been away having children, though her first jump back went as though she had never been away. It is also good to see Jerry Wood back in action after a period of being away.

Dave Lewis completed a skydive at Skydive GB to celebrate 30 years of jumping. That in itself is a significant achievement. We do not usually let Dave out of the pilot's seat, but on this occasion the wonderful Dave Pinkney stepped in to ensure this happened.

The first display of the season happened on Armed Forces Day at Leconfield. This was a success, with lots of smoke and SSAFA flags being flown. It probably wasn't the best idea to provide a free bar for the jumpers afterwards, and this would prove a costly exercise with some of them…

It's great to see Darren Glover back at the centre after his HK67 decided to teach him a quick lesson that it is not to be messed with. The result was Darren having a few weeks away from the sport but, despite this, he is now back in action and ready to face his nemesis again. My money is on Darren!

Originally printed in BPA Skydive The Mag, August 2017.