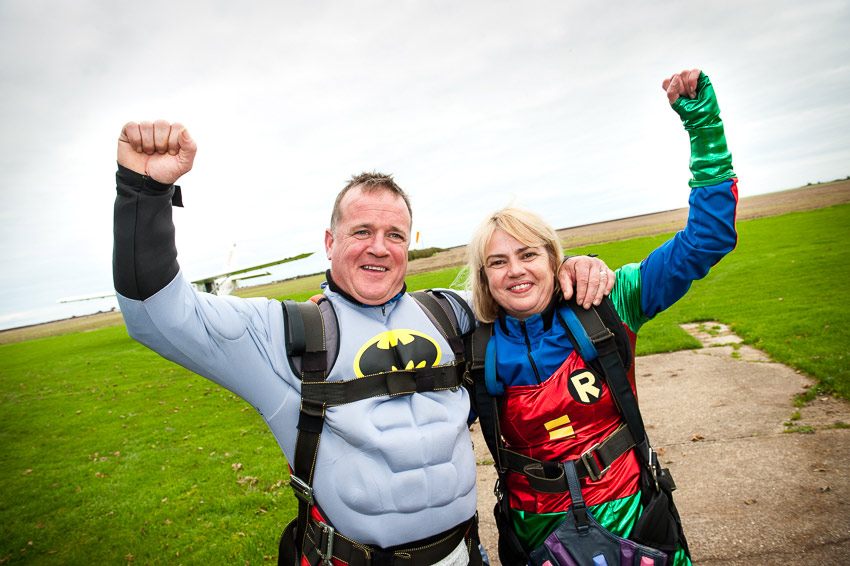 06 Dec

Batman, Robin & More!

So the past few months have proved interesting, massive thanks to Storm Brian and Storm Ophelia – said no skydiver ever!

We have been plagued by high winds and inclement weather; however we have still managed to complete some awesome jumping and met some great people. Batman and Robin (aka Taff and Lorraine) completed their tandem skydives in full outfit, including nappies in the event of an unfortunate accident. They were jumping for Neuroblastoma, a condition affecting their grandchild. They raised a significant amount of money for their cause and brought along half of Yorkshire to watch them complete their tandem skydive.

We also had the pleasure of facilitating jumps for 3 generations of the same family for Progressive Supranuclear Palsy (PSP). They were part of a 12 strong group who were an absolute pleasure.

As we approach the colder season, we have finished Friday jumping and are now only open on weekends until 3rd December when we will close for maintenance and a well earned rest. We will re-open in the New Year from the 6th January 2018.

Our very own Darren Glover has been coaching the regular jumpers in tracking lately, ensuring they have their TR1 stickers and organising jumps. Darren is a canopy piloting coach, swooper and VFS guru so if anyone is seeking some high level coaching, you know where we are.

Our pilot James Cook (yes, we have a Captain Cook) has now secured a commercial pilots job with Eastern Airways, which is fabulous news for them but not so great for us. James has been a reliable staff member for the past 2 years and is a much loved character around the centre. We wish James well on his new journey and he will be missed.