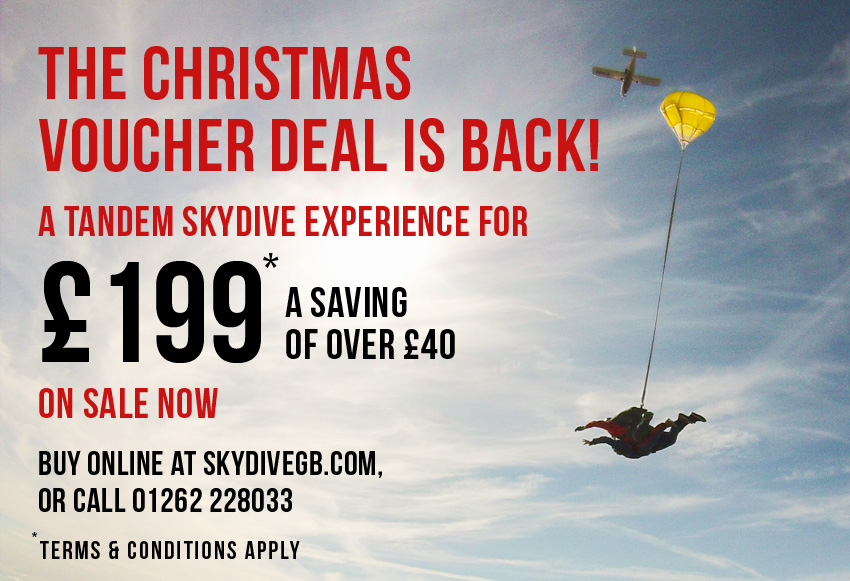 13 Nov

Christmas Gift Vouchers Are Back!

That's right – our popular Christmas voucher deal is back! For a limited time, you can grab a tandem skydive experience voucher for only £199 – that's over £40 off the current list price.

If you love leaving things to the last minute, then don't worry! Gift vouchers will be sent out up to, and including Christmas Eve!

Before continuing to book, it's important to be aware of the terms and conditions of this offer…
The voucher will be delivered as a printable 'e-voucher' to the email address you provide.
The experience needs to be booked by 31 January 2018, with the experience to take place between 1 January 2018 and 31 March 2018.
If the Dropzone postpones the experience due to unsafe weather, another date must be booked for the experience to take place by 30 April 2018.
For an additional fee, the Christmas Tandem Voucher can be upgraded to an 'Any Time' voucher for the remainder of the 2018 season. This upgrade must be paid for by the end of April 2018.
The offer cannot be used in conjunction with any other booking, offer or discount.
The general terms and conditions of all bookings and sales can be found here.
If you'd prefer a voucher that would be valid for longer than the offer below, take a look at our standard vouchers that are available all year round here.
This offer has now ended