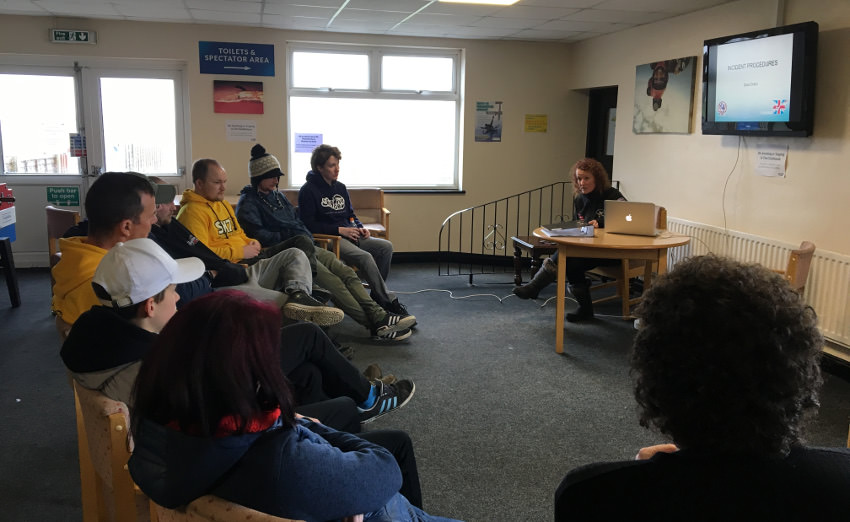 14 Apr

Every Day Is Safety Day!

We are back in full swing at Skydive GB, with the exception of the weather. The past few months have seen arctic conditions, flooding and the miserable stages of winter. Despite this, we have welcomed a few days of blue skies, cold temperatures and a strange ball of light in the sky which – apparently – was the sun. The Yorkshire regular fun jumpers simply put their winter jumpsuits on and continued to enjoy themselves.

In March, we conducted a Safety Day for the regular jumpers on yet another poor weather day. This was facilitated by the Instructors and was a huge success. All elements of safety were covered and the day presented the opportunity to ask questions, increase knowledge and have the opportunity to use the experience of Instructors. This was also a great forum to ensure that processes at the centre were in order and suggest new ideas. Our Chief Pilot Dave Pinkney also offered advice and guidance on aircraft emergencies from a pilot's perspective. The day covered subjects including incident procedures and fatalities, progression, aircraft emergencies, canopy control and landing patterns, equipment, safeguarding and malfunctions. This was aimed at jumpers with any level of experience and we will hold a further Safety Day this year.

Many suggestions came from the day and, as a result, we will be facilitating further 'hop and pop' days for the regular jumpers over the Easter period. These days are a firm favourite at Skydive GB and ensure that all jumpers are happy and competent when getting out at lower altitudes.

Steve 'Ninja' Perkins has taken the decision to retire from skydiving after 15 years. This is a huge loss to our centre, and his smiling face and great attitude in the aircraft will be missed. This is not a decision that he has taken lightly; he has been retiring for at least the last four years that I can remember. However, he feels the time is right to hang up his rig. We would like to wish 'Ninja' all the luck in the world with his new adventures and expect to see him around the centre from time to time. This is also a great opportunity to congratulate him on his recent engagement to Tracy.

Our marketing manager, David Ruston, has been doing an outstanding job and is working directly with charities. David has been working closely with our chosen charity, the Yorkshire Air Ambulance, and has already organised specific dates for those who wish to jump for this cause.

Originally printed in BPA Skydive The Mag, April 2018.