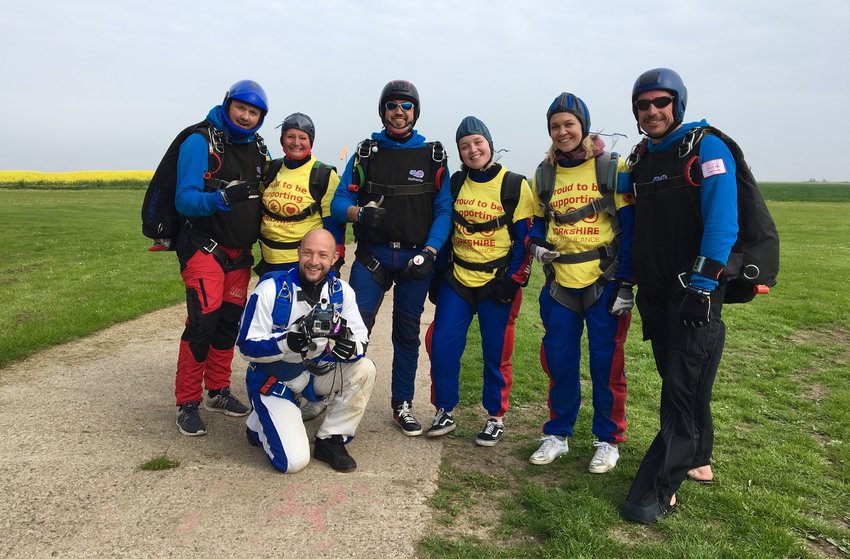 06 Apr

What To Wear When Skydiving

Good question! You may have read elsewhere that you should wear 'suitable' clothing or even 'sensible' clothing for a tandem skydive, but what does that actually mean?

It's important to make sure you're comfortable and you can move around easily and it's much easier to do in tracksuit bottoms / activewear than in skinny jeans!

Read on and we'll tell you a bit more about what to wear when skydiving, including those silly looking hats, jumpsuits and footwear.
Wearing one of our skydiving jumpsuits
When tandem skydiving we'll give you one of our specially designed tandem skydive jumpsuits to wear. We do this to keep you warm, and protect the clothing you came in.
On some occasions there may be the need to slide in on your bum when landing, and we wouldn't want you to be going home with horrid grass or mud stains!
What to wear when skydiving in the summer
Underneath the jumpsuit, most people find a T-shirt and hoodie with a pair of tracksuit bottoms is enough for tandem skydiving in the summer. In fact, t-shirts and shorts are a common sight but don't forget you'll be wearing one of our jumpsuits too!
What to wear when skydiving in the winter
There's no hard and fast rule for what the temperature is going to be like at any given time of year, but if you're jumping in the peak of winter it could be as cold as -20c at jump altitude!
As a result. you may want to wear an extra base layer (leggings and a top, thermal if you have any) but this is up to you – everyone's different and one person's 'cold' is another person's 'shorts weather'.
The key to layering is to choose a few thin layers instead of one or two thick layers – you'll be warmer and you'll also have much more freedom of movement, plus you'll be able to add or remove layers much more easily.
It's good to bear in mind that while our jumpsuits are cut to allow you to add extra layers underneath them in cold weather (think fleeces, hoodies, leggings…) you won't need to bring all the clothes you own along with you, as the jumpsuit keeps most of the wind out and you'll probably be too full of adrenaline to notice the cold anyway once you're all the way up at 10,000ft!
The ultimate accessory to skydiving in winter is gloves. Your hands can certainly get a bit nippy when travelling at over 120mph! We've got a good selection here, so don't worry you can grab some before boarding the aircraft.
Wearing your charity t-shirt
If you're doing your skydive for charity and you have a charity T-shirt you'd like to show off, you will usually be allowed to wear that over your jumpsuit – just ask your instructor before getting kitted up.
It's worth wearing a different T-shirt and bringing your charity T-shirt along with you to put on later once you're suited up. That way you can wear the charity colours with pride, and it'll make for some great video/photos too!
Do I get one of those silly skydiving hats?!
Oh yes! As well as the jumpsuit, you will also be given a frap hat. Frap hats, affectionately known as silly hats, are essentially soft helmets and are a requirement of tandem skydiving in the UK. If you have long hair you may find you need to put it in a low ponytail to fit it under the frap hat. The frap hat will also come with a pair of goggles to keep the wind out of your eyes in freefall – if you wear contact lenses you can safely leave them in for your skydive, and we also have goggles designed to fit over glasses so you won't need to worry about losing them in freefall either!
The ideal footwear for skydiving
The final thing to consider is footwear – trainers you're happy to get a bit muddy would be ideal, although the chances of them getting muddy are fairly slim, especially in the summer.
Laces are great, since you can make sure your shoes are on nice and tight – but slip on shoes, flip flops or sandals are not advised. Be careful not to lace your shoes too tight, however, or you'll restrict your circulation and you'll find you have very, very cold feet by the time you land!
We'd certainly advise against hiking boots, combat boots or any type of footwear that has hook-type eyelets. If you do attend in this type of footwear, your instructor will need to cover the hooks up with duct tape before you jump. Don't worry, it's perfectly normal for us to do so!
We hope this gives you a good overview of what to wear when skydiving. If you have any questions, feel free to contact us – and whatever you decide to wear, we look forward to seeing you in the sky soon!