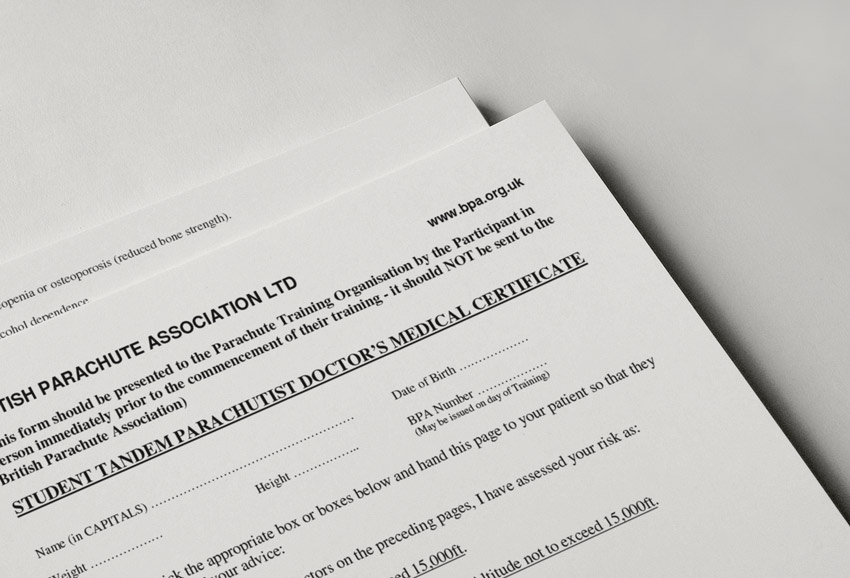 10 Apr

Which Medical Form Do I Need?

If you're going tandem skydiving anywhere within the UK, then you're going to need one of two medical forms – 115A or 115B. One is a simple 'self declaration of fitness' and the other is a 'doctor's medical certificate'.

Which one you need depends on your current health status, but it's important to get the right one for your circumstances. They are created by British Skydiving, our sport's governing body, so using the wrong form would result in you being refused to jump on the day.

Hopefully by the time you've read this you'll have a full understanding of which form to bring with you on the day.

Heads up – If you're thinking of doing a solo skydiving course rather than tandem skydiving, then there are slightly different forms. Take a look further below.
There are two medical forms, but which one to use?
In short, it's fairly simple. Everyone intending to do a tandem skydive must begin with reading form 115A, the 'self declaration of fitness'. Can you agree to everything in there, and happily sign? If so, all you need to do is complete the online document.
If you have any of the medical terms listed in the above form then it doesn't mean that you can't skydive, it just means that you'll have to take 115B, the 'doctor's medical certificate' to your doctor and get them to sign it and stamp it. Then, simply bring it with you on the day. Please do not send them to us earlier, the only time we need them is when checking in with reception on the day of the jump.
We understand, going to see your doctor can be frustrating, but these medical forms must be true to your circumstances.
But what if I'm over 40, will I need to go and see my doctor regardless of my health status?
This is a frequent question, as a few years ago you did indeed have to go and get a medical form signed if you were over the age of 40. However, this has now changed. If you're over the age of 40, and do not have any of those medical terms listed in form 115A, then you can simply self certify using that form. If you do have any of those medical terms listed, then you'll need to see your doctor with form 115B.
My GP is trying to charge me to get a medical form signed and stamped
Some surgeries will indeed charge you for a medical form to be signed and stamped, as the NHS does not provide this for free.
How much they charge differs greatly between surgeries. Some people we speak to get them for free, others have been charged between £15 and £80.
The doctor isn't interested and simply won't sign my medical form
This is an increasing problem, and we understand your frustration, but we must respect the decision of the medical professional.
If you believe they're simply omitting risk to themselves then it's worth pointing them towards the final paragraph in form 115B. At the time of writing this article it states "The advising doctor is not stating that a candidate will remain free of injury during parachuting, but is simply giving a qualitative assessment of risk".
Failing that then don't worry, all is not lost! We'd suggest going to see an Aviation Medical Examiner (AME).
Are these the same forms for solo / static line training?
No. There are slightly different forms if you're intending to carry out our solo skydiver training. The above info remains the same, but you'll need these forms instead…
115C – Solo Student Declaration of Fitness
115D – Solo Student Parachutist Doctor's Medical Certificate
Remember, for solo training there is an upper age limit of 55 set by our governing body. However there is no upper age limit for tandem skydiving.
We hope that helps on selecting the correct medical form to use. If you have any queries regarding the medical forms for skydiving with us, just give us a shout!